FAKES & REPRODUCTIONS

---
Wherever there is a collectibles market, there will be reproductions. The hobby of marble collecting is certainly no exception and as the popularity of the hobby soars, so does the number of people trying to make money from producing and/or selling reproductions. This page will discuss the following topics:


Modern Character and Logo Marbles
Fake and Reproduction Packaging
Recast Marble Tournament Medals
MODERN CHARACTER AND LOGO MARBLES
With few exceptions, marbles with advertisement logos and comic characters are modern. The exceptions include, of course, the 12 original Peltier Comic marbles as well as the Cotes Master Loaf and Tom Mix advertising marbles by the same company, along with a few rare screenprinted advertisement marbles such as a series of Akro Agates produced in the 1930s.
The Peltier marbles have all been reproduced. These are easy to identify, however, since the characters are painted, screenprinted, or applied as a decal on the marble. The marbles are sometimes Peerless Patches, which is the marble on which all the originals were made, though the overwhelming majority consists of plain white marbles, with an occasional Marble King or Vitro Agate example showing up. The best method for detecting these is to feel the print; the originals have an overglaze so cannot be felt. However, reproductions, because of the way the character is transfered to the surface, can be felt. In addition to the original characters, other marbles will have characters without genuine counterparts, like Jeff of "Mutt and Jeff" and Popeye. Sometimes the characters are multicolored. Original character imprints were always just one color, black.
There are also many advertisement marbles circulating, and these are often misrepresented as old. Most have been made since the 1970s by Qualatex and later by Lucky Dog, which bought the Qualatex machinery. In addition to the advertisement marbles, they also create character marbles. There is a very long list of these marbles, everything from Coca Cola to Buick and John Deere logos to superhero characters. Mostly, they are found on Marble King opaques, catseyes, and Rainbows, all modern. Since these are produced by screenprinting, the print can be felt on the marble. However, as mentioned some genuine vintage advertisment marbles are known, and these are almost always on Akro Agate marbles.
One style that has become collectible among catseye collectors are the Ajax and Bonux advertising marbles from France. These were produced in the 1950s 60s and are on European sparklers or catseye marbles, many with oxblood.
---
MODERN CHARACTER AND LOGO MARBLES GALLERY
(Hover your mouse or lightly touch the image to see the type of marble. Click to view the full size image)
---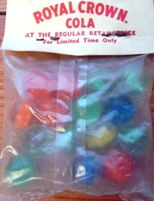 FAKE AND REPRODUCTION PACKAGING
Recently, there has been an astounding number of "original packages" flooding the marble collecting market. Some of these appear as vintage boxes, such as attempts to reproduce containers by Christensen Agate Company, Master Marble, and others. More popular are polyvinyl bags, apparently because of the ease and inexpensiveness with which to create them. Many of these actually do not even represent marble bags that ever existed in a genuine state! Common to this category are promotional items, such as promotional petroleum giveaways, beverage giveaways (some having genuine counterparts, however), and "Rio Theater" giveaways. Below are some of the bags available, but this is only a small representation. New bags are being produced every day with new headers and graphics.

Many dealers are attempting to sell these bags. These items appear on Internet auction services such as eBay, at flea markets, in antique malls and stores, and even at marble shows. Many sellers of reproduced and faked packaging may themselves be ignorant of their origins and perhaps purchased them believing they were genuine.

Here are a few pointers on becoming better educated about how to detect and avoid fake poly bags:
1. Genuine polyvinyl packaging will have a seam down the middle of the backside. This is completely lacking on fakes and reproductions. Also, original poly bags tend to be thicker and will show signs of aging and weathering, typically a "cloudy" effect on the bag's exterior.
2. Does the bag look too new? Most of the reproduction bags are in remarkably well-preserved condition. Remember that these are supposed to have been made in the 1940s through the 1960s. They should show it, usually as fading and perhaps tearing of the label, rusted staples, rubbing on the poly vinyl container, and so forth. However, use caution when using these criteria. For example, not all old bags possess rusted staples. And not all new bags have shiny staples. I have seen many with artificially oxidized staples. I believe they are using a mild acid solution to cause this premature rusting. Typically, such staples will have tell-tale stains on the paper header surrounding them, since a liquid solution was dropped onto the staples. Also, I have noticed recently that fake bags often have paper headers that have been ripped, faded, stained, and so on in order to lend them greater credibility by looking as old as they would be expected for their claimed age.
3. Know Your marbles! People who manufacture the polyvinyl bags are either too cheap or too stupid to fill them with vintage marbles. Often what they will contain are modern Marble Kings or Jabo Vitros.
4. Faked headers are printed with ink jet printers. Look at the header under at least 10x magnification. If you can see tiny dots of color and bleeding of the ink into the fibers, chances are it is fake.
5. Do some research and be sure that the so-called original package you want to buy at least represents a product that was actually produced. One good method is to browse through collectibles books on the company which was promoted by the marble package (i.e. Coca-Cola collectibles books), if it is a promotional bag at least. Make comparisons.

ALOX AGATE POLY BAGS
The Alox Agate Company was in operation from the 1920s until 1989. They produced net mesh with their own marbles. However, they never made marble packaging advertising the U.S. military or even packaged any marbles in polyvinyl bags, as the following fake bags, filled with modern marble King marbles, suggest.
THEATER POLY BAGS
In an obvious attempt to tap into other collectible markets, the person(s) responsible for producing fake poly bags have cleverly come up with the idea of creating a set of packages purporting to be theater giveaways, primarily from the Rio Theater in the 1940s. These mostly "advertise" popular western stars of the day in order to attract collectors of Americana, film, and western collectibles. These never existed until the past couple years!
BEVERAGE POLY BAGS
Beverage giveaways are popular, and therefore someone has decided to reproducing genuine marble bags as well as concoct some that do not have genuine counterparts. These are perhaps the toughest bags to determine the origins of since some are very similar to the vintage examples. The best way to differentiate them is by the marbles inside. Also, real beverage giveaways were "bottle hangers," where a circular opening in the header allowed the bag to be suspended from the neck of the bottle. However, as you can see, some of the fakes possess this same feature.
FILLING STATION GIVEAWAYS
Another popular line of collectibles include filling station giveaways. Thus the large number of marble bags sporting gasoline company headers that have appeared lately. All of these are fakes...to my knowledge, no petroleum companies ever distributed promotional marble packages.
MISC. POLY BAGS
The following set of packages represent both "fantasy" and reproduction polyvinyl marble bags. Some, like Champion Agates, Vitro Agates, Mr. Peanut, and Milton Bradley, have genuine counterparts while most of the others are products of someone's imagination.
TOBACCO POLY BAGS
A new wave of fake poly bags struck in the summer of 2000. All of these bags are filled with modern marbles, with one variety per bag. These marbles have color schemes which are intended, apparently, to be matched with the product with which they are supposed to be associated. Though there is a large number of these bags, which have fake headers for many companies, many are for cigarette and other tobacco products. Common sense alone will tell you that even in the heyday of tobacco products, these bags (which obviously would have been geared toward children if genuine) would never have been released.
FAKE POLY BAGS W/ MODERN MARBLE KINGS
The most recent fake poly bags seem to be those filled with new Marble Kings. I have seen four types, represented by Bumblebees, Girlscouts, Boyscouts, and Watermelons. Remember, Marble King never sold its Rainbows in poly bags by type; they were always mixed. Also, vintage Marble King marbles have patches and ribbons of alternating colors, while their new marbles have a single ribbon of one color and two poles of another.
FAKE AND REPRODUCTION NET MESH BAGS
Net mesh bags are also reproduced. Since the genuine ones slightly precede polyvinyl packaging they are often worth more. The reproduction mesh bags I have seen are often genuine; however, they have fake headers attached to them. Older net mesh bags are often found with the headers deteriorated or missing, and it is an easy chore to print up an new header and staple it on. Other mesh bags are very recent, the types in which Mexican marbles are often distributed, and have had their original headers replaced with fake ones. Regardless of the actual origins of the mesh bags and their marbles, the best way to spot a fake is by knowing whether or not the header is genuine or not. Fake headers are printed with ink jet printers so will have the tiny dots and ink bleeding that can be found under magnification.


---
FAKE POLY & NET BAGS GALLERY
(Hover your mouse or lightly touch the image to see the type of marble. Click to view the full size image)

---
RECAST MARBLE TOURNAMENT MEDALS
Beginning around 1997, National Marbles Tournament and VFW Tournament medals have been reproduced. These have mostly been recast in silver, and at least thirteen examples are known.

There are several methods for detecting the recast medals. The detailing is inferior to the genuine examples because they were formed from molten metal poured into molds rather than be stamped from dies. The mold method also often gives the surface an uneven thickness, and there are often lines of metal that stand out around the rim. The cast versions are often very shiny and new-looking, while the originals should be dulled by age and perhaps a bit worn with normal wear. Some are stamped 'Sterling' which is not on all original medals. (Medals came in Gold tone, Silver tone and Copper for 1st-3rd place in a tournament).

One of the best ways to detect a fake is to inspect the reverse side. Whereas the front of the medal will be seen on numerous genuine examples, the back side will often be unique because it is assigned to a particular tournament winner, whose name will appear there. Obviously, if you have a medal whose reverse side is shown here with a certain name, it will be a reproduction, unless of course you possess the exact example from which the pictured fake was recast.

Known medals reproduced: (images below)
"Marble Champ"
"1941 National Marble Tournament"
"United States Marble Shooters Tournament"
"Pittsburgh Press Marble Tournament"
"1935 National Marble Tournament"
"Annual Boy Week Marble Shooting Tournament"
"James Davis 1st Place"
"Trenton Times Award"

The medals listed below have also been reproduced. No image available.
"Marble King Tournament"
"United States National Marble Championship Tournament"
"National Marble Tournament"
"VFW City Award National Marble Tournament"
"1933 National Marble Tournament" "1954/Class A"


---
RECAST MARBLE MEDALS GALLERY
(Hover your mouse or lightly touch the image to see the type of marble. Click to view the full size image)

---
---